Film Review: Red Dust (1932)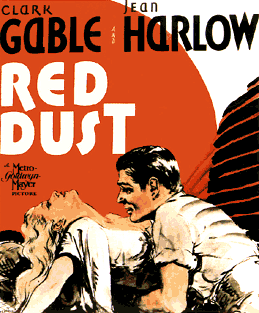 Red Dust needs an alternate title. It should also be known as The Sexiest Film You Can Get Without A Sex Scene. Period.
Red Dust is famous for being the steamiest of all The Gable/Harlow films, and it is probably the steamiest film of both of their careers. The film is about Dennis Carson (Gable), the owner of a rubber plantation in Indochina. Carson finds a prostitute named Vantine (Harlow) in his quarters one night, and the two soon become an item. Vantine is truly in love with Dennis, but he (being the ladies' man that he is), sees her only as an object to fulfill his desires. Dennis then gets a new surveyor, Gary Willis (Gene Raymond), who brings along his wife Barbara (Mary Astor). Mr. and Mrs. Willis are very proper and high-class, unlike the red-blooded, earthy Dennis and Vantine. Soon, Barbara and Dennis fall in love and Vantine is sent packing, only to return when her boat breaks down. Of course, rivalry between the girls occurs. Barbara and Dennis plan to marry, but when Dennis goes to tell Gary, he backs out, seeing how much Gary loves Barbara. He goes home to wallow in despair and drink with Vantine. When Barbara finds them, Dennis pretends to have used her all along, causing her to shoot him. Eventually, Gary and Barbara leave, and Dennis recovers and realizes his love for Vantine.

The decision wasn't easy, but Harlow and her charms won out in the end!
There's no denying that I simply love this film. The chemistry between the leads is off-the-charts and the film is a wonderful mix of action, romance, and snappy humor. Harlow especially shines, with her colorful zingers and sarcastic comebacks. It's enjoyable to watch her bust Gable's chops (as she does to him in all their films together, but this one takes the cake). This film is also a wonderful example of the Pre-Code. It's sexy, raw, and very very entertaining. The dialogue is full of double-entendres and there is an enjoyment for manhandling by the characters that adds to their heady natures (Vantine loved being pushed around by Dennis and being dunked by him in the tub, Dennis enjoyed being slapped by Barbara, you get the drift). Oh, and don't get me started about that rain-soaked Gable/Astor kiss. Easily one of the most famous classic movie kisses ever (hmm…do I see a future post?)

The famous bathing scene. According to legend, Harlow really is wearing absolutely nothing in that there tub.
A lot of things get me thinking about this film as well. When Red Dust was released, Harlow was only 21 years old. Despite her young age, she exuded so much sensuality on that screen it seemed so beyond her years. She did it better than any actress today, and they take off everything! Gable is interesting to watch here as well. That opening scene, when he swaggers through the rubber plantation with his macho friends, caked in dirt and sweat and wearing a worn-down, flimsy shirt, is the essence of what Gable had and other actors didn't. He was carnal and lusty, not at all like the suave urbane William Powells that dominated Hollywood at the time. Mary Astor as well was interesting. She was quite infamous for her love affairs, and looking at her struggle to hold in her desire for Gable's character kinda makes you wonder…was it really acting?
Some less intelligent observations about Red Dust: I've seen this film quite a number of times, and only the last time I watched it did I notice that there was a freaking butterfly flitting all over the place throughout various parts of the film! I swear! It was everywhere! Okay, sorry about that, but it really irked me.

Oh, and another thing…WHO LOOKS THAT GOOD AFTER GETTING SHOT IN THE STOMACH! Goddammit, he's so attractive! I could KILL to have been Harlow in the final scene of the film, in which she reads him a children's story from a newspaper, and he flashes that Gable Grin, his hands snaking up her leg…
If you haven't already seen this gem, see it now! It's our Girl of the Month at her best!
68 Responses