Hollywood Takes A Dip!
In a previous post discussing my tour of Paramount Studios in Hollywood, I mentioned that I bought a book called "Hollywood Poolside" by Frans Evenhuis and Robert Landau.
This book is full of fun, beautiful portraits of golden age stars lounging around the pool, and how these waterside images affected American ideas of wealth and status. Need I mention to all my fellow fashionistas, it's a great way to see the evolution of swimsuit styles? This book has inspired this post, which not only shows stars by the pool, but shows them rocking their stylish swimsuits anywhere, and is in a way a tribute to the pin-up.

Jane Russell models a cute 50s style powder blue one piece on the diving board.

Ginger Rogers models a 1940s style halter bikini

Jean Harlow modeling the popular black Jantzen one-piece of the 1930s. It had a very demure front, but a revealing back, adding a subtle sex appeal. One of the most popular swimsuits amongst Hollywood's elite in the 1930s.

Joan Crawford spices up her white one-piece with strappy heels, ca. 1930s

Rita Hayworth in a nautical-themed pin-up shot.

Virginia Bruce models a demure skirt ensemble, ca. 1930s

Grace Bradley in a flattering one piece and chic cape-style coverup, 1936

Una Merkel (cheesy pose!) models a black one-piece and some cute sandals, 1934

A very early photo of Rita Hayworth (socks and sneakers with a swimsuit?), 1938

Marilyn Monroe is very famous for her swimsuit pin-up photos. August 3, 1951

A beautiful candid shot of Monroe laughing, July 1, 1952

Merle Oberon models a cute suit on a diving board, 1939

Who else rocked a swimsuit (and synchronized swimming) better than Esther Williams? January 21, 1948

Although strictly for modeling, Ginger Rogers' coin suit from Gold Diggers of 1933 is the height of swimming couture!

Yay! A man! Maurice Chevalier (my newest crush) sports a popular men's swimsuit from the 1930s (men wore it without the shirt as well).

Marilyn Monroe in a cheescake pin-up, July 2, 1953

Grace Kelly and her family on vacation, 1954

Marilyn Monroe in a bikini, May 26, 1952

Claudette Colbert looks adorable in this patterned swimsuit! With Gary Cooper in Bluebeard's Eighth Wife (1938)

Marilyn and a chihuahua, May 17, 1950

The famous shot of Elizabeth Taylor on the set of Suddenly, Last Summer (1959)

Liz in an adorable polka-dot one piece, July 4, 1956

Ellen Drew, Susan Hayward, and Betty Grable, 1939

Ava Gardner in a…straw bikini? Yep! ca. 1950s

Jane Russell's bikini looks like an optical illusion! 1950s

Elizabeth Taylor (only 17 years old here) and (hairy) fiance William D. Pawley Jr. relax poolside, August 25, 1949

What's more fashionable: Marilyn's swimsuit or heels? January 25, 1952

Marilyn having fun on the beach, ca. 1950s

Maurice Chevalier with an unknown actress in Innocents of Paris (1929). Her polka dot suit is tres chic!

Ann Rutherford sunbathing in a cute swimsuit, 1937

Ann Blyth (in a fashionable swimsuit) and Farley Granger in Our Very Own (1950)

Esther Williams teaches Mickey Rooney a thing or two in Andy Hardy's Double Life (1942)

William Holden rocks patterned trunks in a scene from the greatest Hollywood-themed film, Sunset Boulevard (1950)

Esther Williams in a sequined swimsuit in Million Dollar Mermaid, 1952

Marilyn Monroe in Some Like It Hot (1959)

In a barely there swimsuit in Something's Got To Give

Rita Hayworth playing cards on the beach (with herself?) ca. 1940s

Cary Grant and Grace Kelly lounge on the beach in To Catch A Thief (1955)

Cary Grant relaxes in some sporty summer clothing poolside

One of the famous Cary Grant and Randolph Scott portraits, ca. 1930s

Cary Grant checks out Marilyn Monroe, ca. 1950s

Clark Gable and Joan Crawford in the pool in Chained (1934)

Clark gets ready to dive in; from the same scene of Chained (1934)

Ida Lupino lounges around in a bikini and wedges

A lovely one-piece worn by Virginia Grey

Yvonne deCarlo wears a bikini in this pin-up photo

Evelyn Keyes in a sporty black one-piece

Very stylish, Johnny Mack Brown!

Ann Rutherford in a fashionable one-piece

(Blonde) Evelyn Keyes hangs out on the diving board

I must say, my favorite swimsuit pictures are Bette Davis'. There is something so effortless about the way she wears them!

Dorothy Lamour in a cute skirt ensemble

Paulette Goddard models a darling white one-piece!

Here's a cute style, modeled by Rita Hayworth

Loving Ann Baxter's suit!

The always-cute Joan Blondell in an adorable swimsuit

Betty Grable in a striped bikini

Sonja Henie, not on ice!

Ann Francis' swimsuit is CUTE!

Scratch that. THIS is the cutest swimsuit ever created! Modeled by Dorothy Sebastian

Una Merkel in a conventional 1930s one-piece

Paulette Goddard in a wraparound swimsuit

Lookin' good, Alan Ladd!

Joan Crawford is goddess-like in this white one-piece

Thank goodness Cyd Charisse is modeling a simple black suit here!

Cyd Charisse in a cute halter bikini

A very young Lana Turner in a diving board pin-up

Elizabeth Taylor's swimsuit is to die for!

Jane Russell in a ruffly one-piece

Ann Blyth modeling an interesting one-strap suit

Ann Harding is 30s chic!

An early Ida Lupino in a patterned one-piece

Another classy Ida Lupino photo

Ava Gardner is gorgeous in this beachfront photo

Ramon Novarro is mighty, mighty fine…

An early Ronald Reagan in a lifeguard suit!

Mamie Van Doren in a pastel pink one-piece

Here she is again in a patterned one piece

Ann Sheridan in a ruffly pink bikini (shoes don't match!)

LOVE Ann Sheridan's bikini here!

Betty Hutton in a swimsuit, carrying an umbrella (?)

Jean Harlow in a low-cut swimsuit? Every man's dream!

Jean Harlow working on her swimsuit body

This I LOVE. It's glittery!

This one is adorable too!

Jean always looked fashionable

Fooling around in a standard 30s swimsuit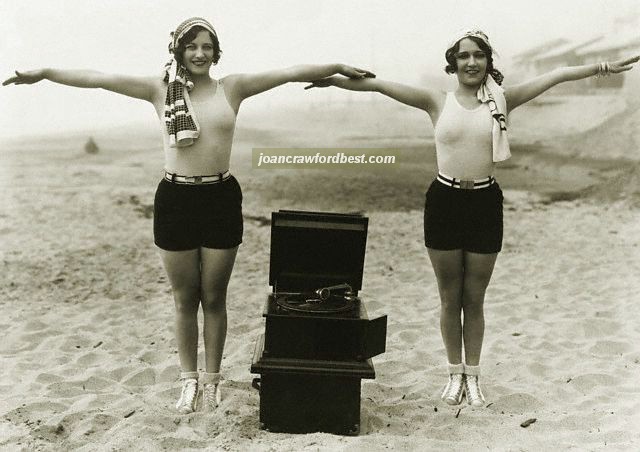 Joan Crawford and Dorothy Sebastian accessorize their swimsuits with cool headscarves, 1925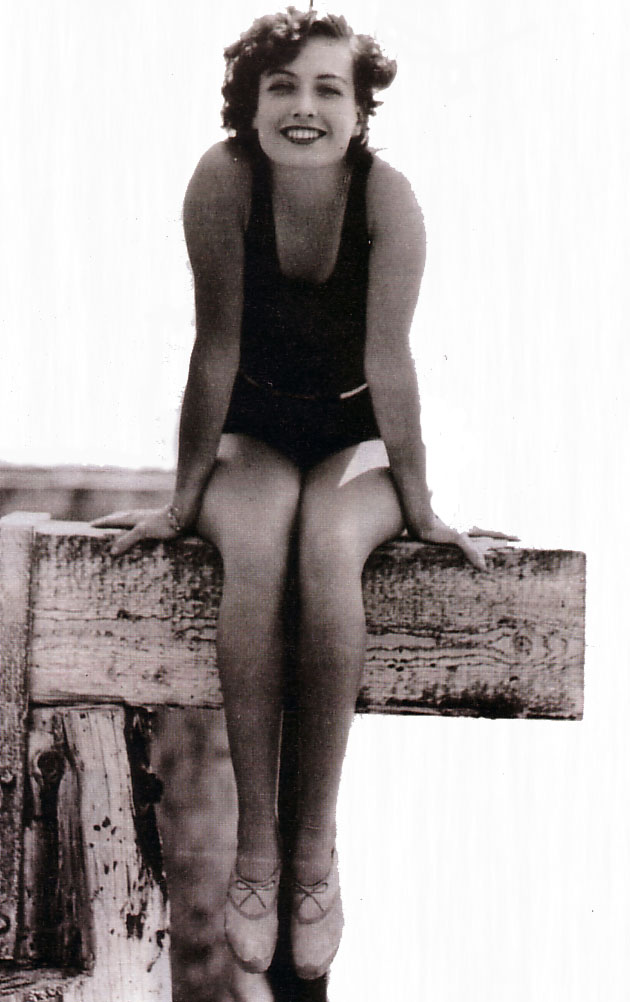 Joan looks gorgeous in this publicity shot, 1926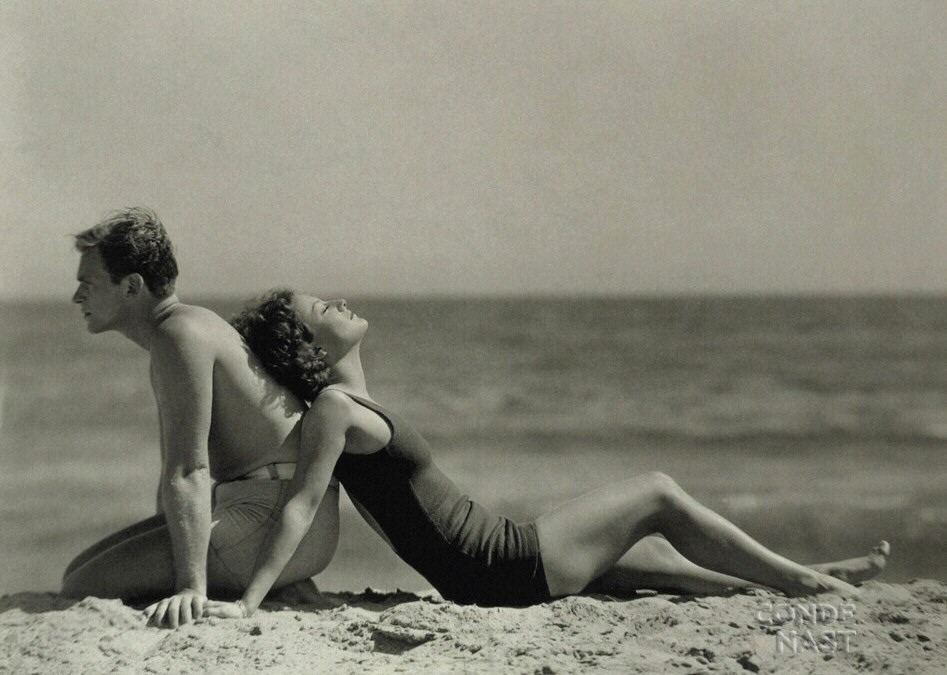 Famous photo of Joan with husband Douglas Fairbanks Jr, August 22, 1929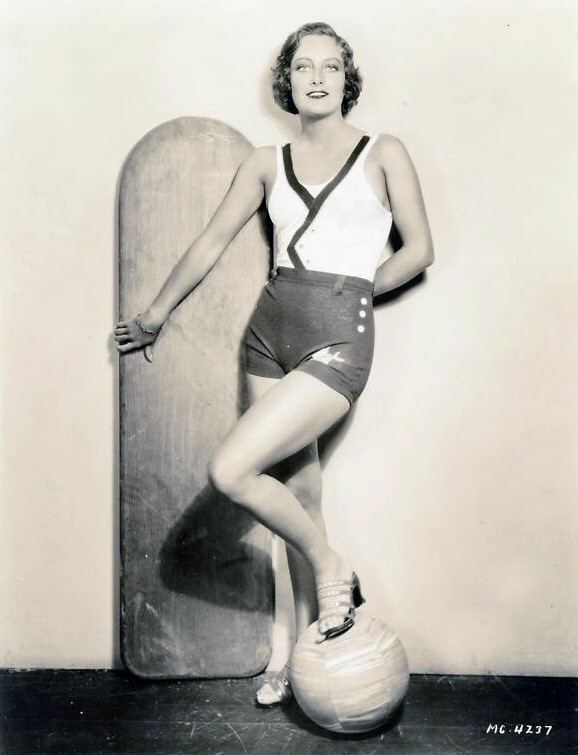 I simply adore this swimsuit!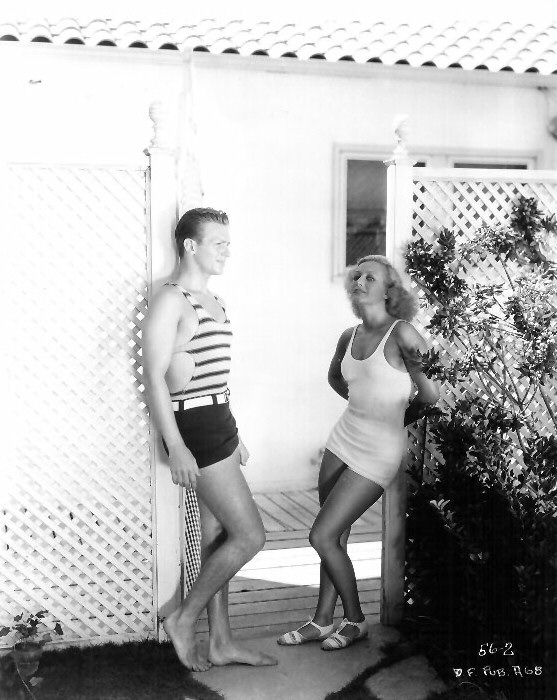 Joan and Doug im 1931. The men's swimsuits make me laugh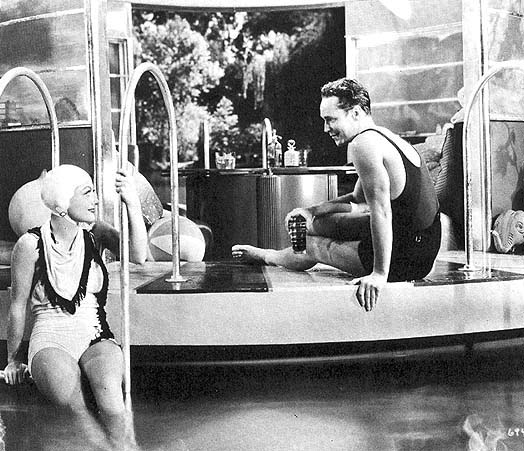 Joan with Franchot Tone in Dancing Lady (1933). The black fringe is so chic!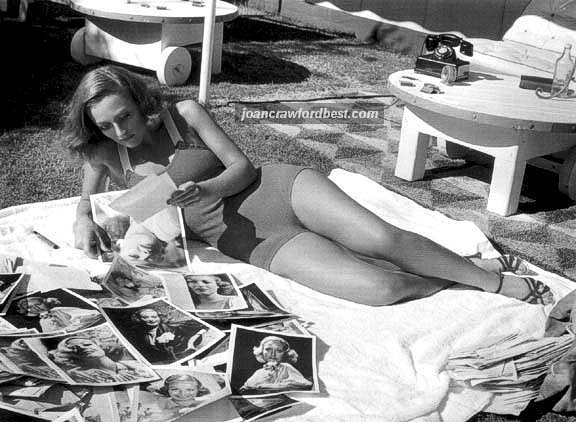 Multitasking sunbathing with answering fan mail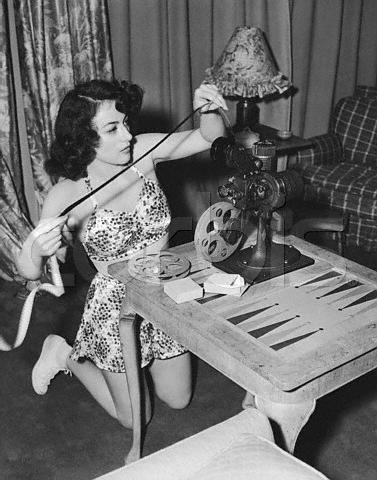 I love Joan's 1940s swimsuits. Here's my favorite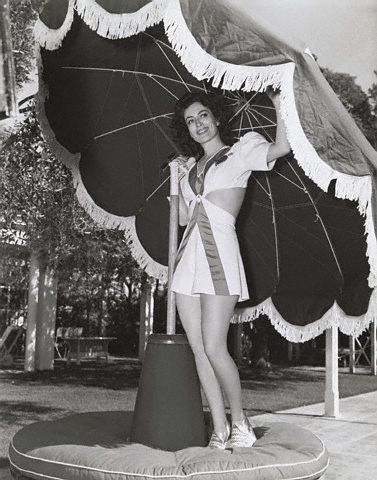 Another fave

This one is HILARIOUS. Gloria Swanson in the 1920s

Gloria Swanson looking a bit more…normal. She was always quite trendy

Jane Powell in an itty bitty bikini

Debbie Reynolds goes for a demure look here

But vamps it up here!

Pulling off a classic pin-up pose

A young Doris Day. Love the bikini, not digging the sandals

Bette Davis is so cute here!

Bette Davis in a swimsuit, and Joan Blondell modeling the beach pajama, a 1930s casual beachwear trend

Mary Astor and Manuel de Campo in Hawaii

Tyrone Power always looked good in those tiny swimsuits!

Tony Curtis brings in some much-needed hairy man leg

Oh my God. Rudolph Valentino is SEXY.

Gary Cooper in one of those things…

A (not so good) photo of Johnny Weissmuller and George O'Brein

LMAO who can guess what's wrong with the above photo of Philip Reed?

Surf's up with Henry Fonda!

Laurence Olivier in his God-given birthday suit! Thankfully, that strategic shadow blocks everything

Color photo of Laurence Olivier kissing Vivien Leigh

How adorable is Vivien here?

Vivien is gorgeous in this pin-up photo

One of my faves. Laurence Olivier and Vivien Leigh on vacation in Australia

Larry checks out Vivien

Larry and Viv at the beach

Al Jolson relaxing by his pool (the lounge chair is too small hahaha)

Johnny Weissmuller and his brother in identical swimsuits

Paulette Goddard in a black one-piece. Nice background!

Jeanette MacDonald is cool in a white one-piece, sunglasses, and a headscarf

Jeanette MacDonald enjoying the beach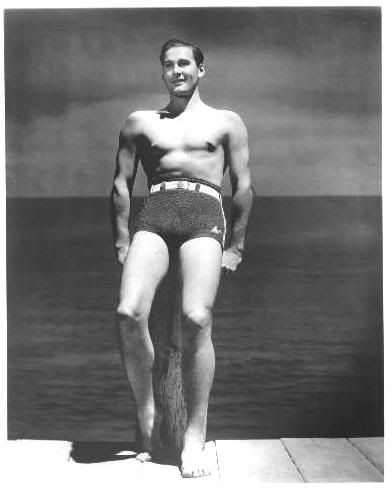 Errol Flynn…what a hottie

Jane Russell in a GORGEOUS gold number!

Susan Hayward, a beautiful, popular pin-up

Susan Hayward flirts with the camera

A fun bikini modeled by Susan Hayward

Olivia de Havilland looking lovely, as usual (LOVE her shoes!)

Olivia de Havilland goes for more natural scenery

Rocking a patterned bikini

Ginger Rogers caught off-guard at the beach

Loving Ginger Rogers' swimsuit!

Loving this one, too!

Fellow Brooklyn dame Barbara Stanwyck rocks a bikini!

Gene Tierney in an amazing leopard print suit

I say, Brooklyn girls wear swimsuits the best!

Clara Bow

Clara Bow looking shipshape

And cute!

With her dog

Clara Bow in the sand with heels? And a two piece in the 1920s to boot!

Myrna Loy lounging poolside in that backless swimsuit I spoke about earlier

Dolores Del Rio in a one-strap bikini

A pin-up era Lucille Ball modeling a gorgeous strapless one-piece

A very young (and still brunette) Lucille Ball in a cute patterned swimsuit and a killer hat!

Esther Williams in a simple black one-piece. She has her own (ADORABLE!) swimsuit line today.

Wearing a tie-front bikini

The always gorgeous Norma Shearer lounging poolside

The lovely and talented Ruby Keeler

Al Jolson with his wife, Ruby Keeler. Nice rubber swim cap!

Claudette Colbert looks glamorous in this one-piece

And even more glamorous in this vintage bathing costume! With actor John Payne

Joan Blondell models an early version of those cutout swimsuits so popular today

Claudette getting some sun, sand, and surf

Here's a rare one: Greta Garbo!

Greer Garson looking statuesque in a metallic swimsuit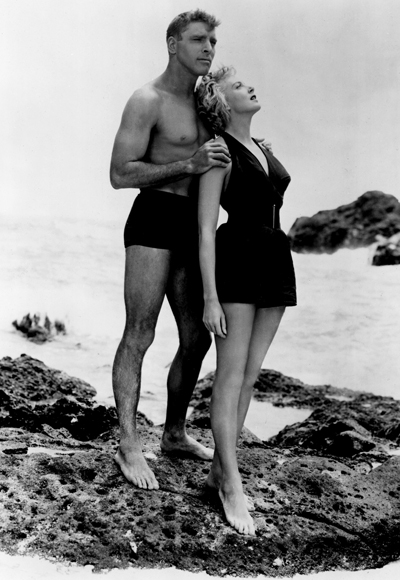 Deborah Kerr and Burt Lancaster, either before or after that famous scene from "From Here To Eternity"

A colorized photo of Carole Lombard in a glamorous swimsuit and heels

Leggy Lombard was a great pin-up

In a shiny one-piece

Joan Fontaine and Joseph Cotten in September Affair (1950)

Kirk Douglas and Brigitte Bardot on the beach

Color photo of Betty Grable in a yellow bikini (with a polka dot pillow)

Ava Gardner in a pinstripe one-piece

In a black tie-up bikini

And in a polka dot bandeau bikini

Humphrey Bogart looking cool in swim trunks and flippers

Hedy Lamarr in a gorgeous one-piece

Veronica Lake in a black tie-front bikini

Maureen O'Sullivan in a knit one-piece and cute sandals

Maureen O'Hara in one of my favorite designs: the skirt ensemble

Grace Kelly in an elegant black one-piece

That thing on Gene Tierney's swimsuit is a cover-up…I hope

I love this swimsuit that Grace Kelly wore in High Society!

Kelly looking great in a white ensemble

Yep, Dick Powell was the Jantzen guy at some point

Why, Rock Hudson? Whyyyy???

The most famous, greatest swimsuit photo of all: Betty Grable's leggy 1940s pin-up shot, quite popular with American World War II soldiers.
23 Responses